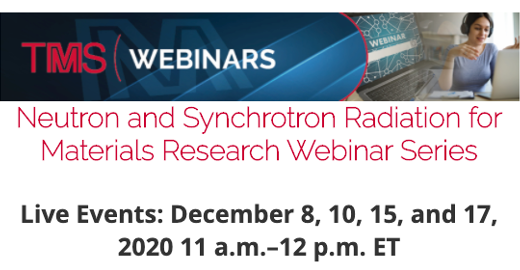 Neutron and Synchrotron Radiation for Materials Research Webinar Series
This webinar series of four sessions explores some of the latest developments in the 3D characterization of structural materials using neutron and synchrotron radiation. After an opening roundtable panel discussion by three experts in the field, the next three webinars encompass more detailed individual presentations by each of these experts.
View the recorded webinars here.
Materials Research Panel Talk on Neutron and Synchrotron Radiation
Tuesday December 8, 1PM ET
Speaker/panelist: Henning Friis Poulsen & Matthew P. Miller
Moderator: Klaus-Dieter Liss
In Situ Neutron and Synchrotron Diffraction Studies
Thursday December 10, 1PM ET
Speaker: Klaus-Dieter Liss
Moderator: Henning Friis Poulsen
X-ray Microscopy Studies of Grains and Defects in 4D
Tuesday December 15, 1PM ET
Speaker: Henning Friis Poulsen
Moderator: Matthew P. Miller
Characterization and Modeling of Structural Materials Using Synchrotron X-rays
Thursday December 17, 1PM ET
Speaker: Matthew P. Miller
Moderator: Klaus-Dieter Liss