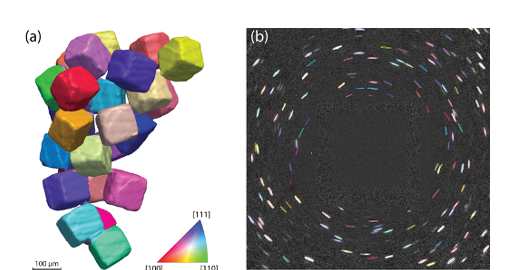 Putting new GrainMapper3D 2.1 features to the test: Forward modeling
In collaboration with the Xnovo team, a group of researchers headed by professor Nik Chawla from Arizona State University have put the – soon to be released – forward modeling feature of the new GrainMapper3D 2.1 to the test and reported the results in a recent JOM publication.
With the forward modeling feature one can validate the reconstructed grain map by comparing the captured DCT pattern with the simulated one as exemplified above for a calibration sample consisting of 23 silicon cubes.
"The forward modeling feature of GrainMapper3D 2.1 is easy to use and gives us immediate feedback on the quality of our reconstruction. This is valuable to us, since a 3D grain map of high fidelity and reliability is the prerequisite for the investigation of grain structure and grain boundary networks. GrainMapper3D has been critical for our work in corrosion of lightweight alloys where a knowledge of misorientation and location of inclusions at a boundary is providing unique insights to microstructural effects on corrosion damage." Nik Chawla testifies.
JOM – The Journal of The Minerals, Metals & Materials Society
A Forward Modeling Approach to High Reliability Grain Mapping by Laboratory Diffraction Contrast Tomography (LabDCT)