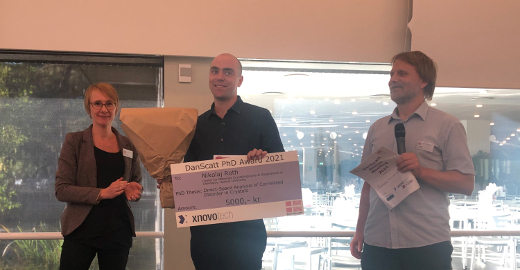 Xnovo PhD prize awarded at Danscatt 2021
The prize for this year's best Danscatt PhD thesis was awarded to Nikolaj Roth for his thesis, Direct-Space Analysis of Correlated Disorder in Crystals, conducted at the Center for Materials Crystallography, Department of Chemistry, Aarhus University under the supervision of Professor Bo Brummerstedt Iversen.
The committee regarded Nikolaj Roth's work on disordered crystals to be at the very highest international level, and found the fact that he employed a combination of x-rays, neutrons and theoretical modelling to represent the true spirit of Danscatt.
The PhD award is sponsored by Xnovo, to encourage new young talents within the field of x-ray and neutron science.