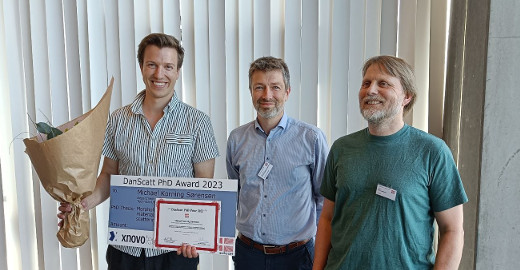 Xnovo PhD prize awarded at Danscatt 2023
The prize for this year's best Danscatt PhD thesis was awarded to Michael Korning Sørenser for his thesis, Morphology of organic solar cell materials – studied with X-ray scattering techniques, conducted at the Department of Energy, Technical University of Denmark under the supervision of Professor Jens Wenzel Andreasen.
The committee regarded Michael Korning Sørensen's thesis an excellent example of how the use of X-ray synchrotron and neutron sources along with innovative development of new methods for acquisition, processing and interpretation of the resulting scattering data can lead to significant advancements in our understanding of materials, in this case for use in organic solar cells. The prize-winner's presented his work at Danscatt 2023, hosted by Aalborg University.
The PhD award is sponsored by Xnovo, to encourage new young talents within the field of x-ray and neutron science.