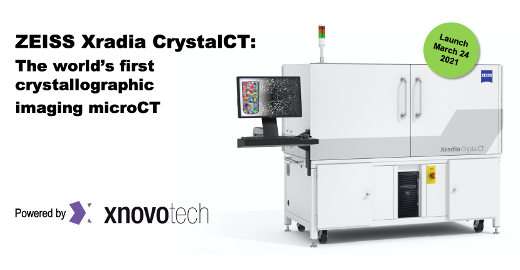 ZEISS Xradia CrystalCT –
dedicated microCT system for
3D crystallographic imaging
ZEISS, in collaboration with Xnovo Technology, introduces the first crystallographic micro-computed tomography system – Xradia CrystalCTTM.
CrystalCT is a world-first commercial implementation of diffraction contrast tomography (DCT) on a traditional computed tomography system, built on the Xradia Versa platform that has years of proven records of delivering leading X-ray imaging performance in the laboratory. Being both a DCT platform and at the same time a highly functional microCT imaging system, CrystalCT enables 3D grain mapping of polycrystalline materials whilst providing superb resolution and image quality for a wide range of 3D characterization needs.
Powered by the latest GrainMapper3D version 3.0, CrystalCT is equipped with advanced scanning schemes that brings the throughput and versatility of 3D grain mapping to the next level. The customized data acquisition strategy removes the limitation of sample geometry and size, whilst seamless data acquisition over larger sample volume of interests significantly increases data volume representivity and ensures statistical relevance.
Read the full press release: https://www.zeiss.com/microscopy/int/about-us/press-releases/2021/first-crystallographic-ct-system.html
And learn more about CrystalCT from our partner ZEISS: https://www.zeiss.com/microscopy/int/cmp/mat/21/crystalct/diffraction-contrast-tomography.html