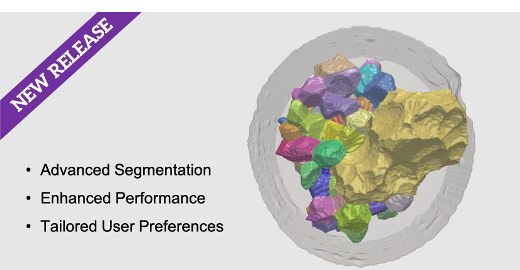 GrainMapper3D version 2.2
We are proud to announce the release of GrainMapper3D version 2.2, which is even faster and more intuitive than it's predecessor. Through the LabDCT™ module for the ZEISS Xradia 520/620 Versa X-ray Microscopes, GrainMapper3D version 2.2 gives access to 3D maps of grain orientations and morphologies in polycrystalline materials and enables correlation with complimentary information on e.g. cracks, porosities and inclusions – non-destructively.
Highlighted features of GrainMapper3D version 2.2
Advanced segmentation

 

– with the option to combine segmentation recipes – for better extraction of diffraction peaks and their shapes, leading to grain maps with higher completeness and sharper grain boundaries
Up to 40 % faster time to results

 

– an optimized engine and memory handling make it possible
Tailored user preferences

 

for e.g. data paths, visualization settings and storage options enabling each user to work more efficiently and consistently
With the release of GrainMapper3D version 2.2, non-destructive 3D crystallographic imaging in your home lab was never easier!
For more information please see the release notes or contact support@xnovotech.com