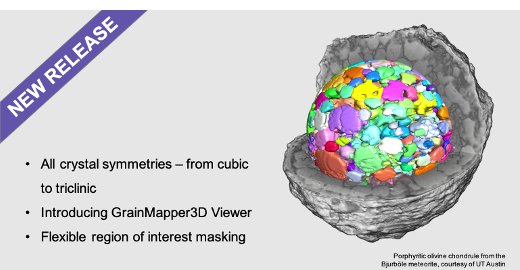 GrainMapper3D version 2.3
We are proud to announce the release of GrainMapper3D version 2.3, which is even faster and more intuitive than it's predecessor. Through the LabDCT™ module for the ZEISS Xradia 520/620 Versa X-ray Microscopes, GrainMapper3D version 2.3 gives access to 3D maps of grain orientations and morphologies in polycrystalline materials and enables correlation with complimentary information on e.g. cracks, porosities and inclusions – non-destructively.
Highlighted features of GrainMapper3D version 2.3
All crystal symmetries are now supported. The user is guided by a default hkl family selection for an appropriate reconstruction, but also has the option to customize the selection for indexing and inspection.
GrainMapper3D Viewer – a simple, dedicated viewer for GrainMapper3D project files and results.
Flexible region of interest masking, including absorption range selection, marker based segmentation and cylindrical cropping (e.g. for samples in capillaries).
With the release of GrainMapper3D version 2.3, non-destructive 3D crystallographic imaging in your home lab was never easier!
For more information please see the release notes or contact support@xnovotech.com