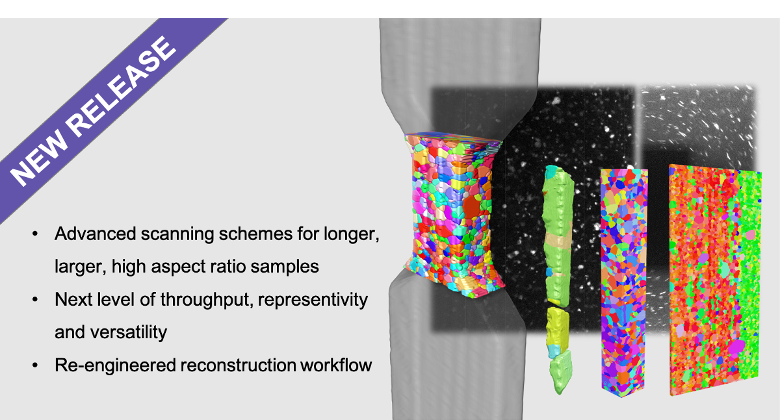 GrainMapper3D version 3.0
We are proud to announce the release of GrainMapper3D version 3.0, taking in-house 3D grain mapping to
the next level. GrainMapper3D version 3.0 gives access to larger and more representative 3D maps of grain orientations and morphologies in polycrystalline materials and enables correlation with complimentary information on e.g. cracks, porosities and inclusions – non-destructively.
Highlighted features of GrainMapper3D version 3.0
Advanced scanning schemes through DCT Acquisition Wizard unlocking customized
data acquisition strategies towards longer, larger, high aspect ratio samples.

Seamless data acquisition over larger sample volumes for another level of throughput,
representivity and versatility.

Re-engineered reconstruction workflow enabling optimized data processing logic and
informative previews.
With the release of GrainMapper3D version 3.0, non-destructive 3D crystallographic imaging in your home lab has reached the next level!
For more information see the release notes or contact support@xnovotech.com