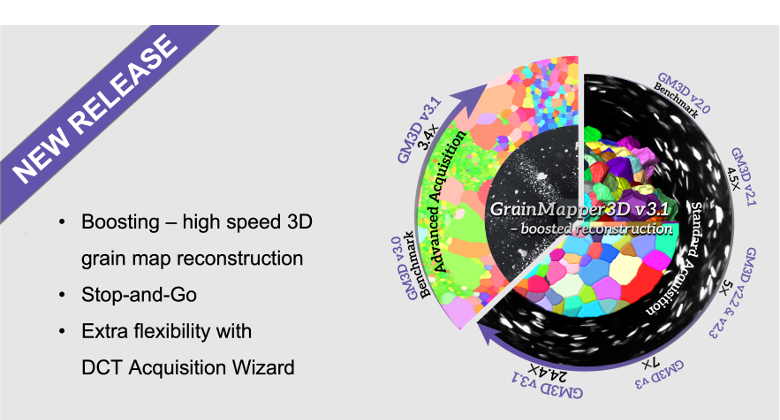 GrainMapper3D version 3.1
We are proud to announce the release of GrainMapper3D version 3.1, boosted to be more than three times faster than its predecessor. GrainMapper3D version 3.1 gives faster access to larger and more representative 3D maps of grain orientations and morphologies in polycrystalline materials and enables correlation with complimentary information on e.g. cracks, porosities and inclusions – non-destructively.
Highlighted features of GrainMapper3D version 3.1
More than 3X faster than v.3.0 and 24X faster than v2.0 with a major enhancement
in the reconstruction algorithm and the introduction of reconstruction boosting.
Stop-and-Go

options for

 data import and reconstruction.
Extra flexibility in the DCT Acquisition Wizard to define region of interest and
reference collection for advanced DCT scans.
LabDCT Pro support, enabling DCT in projection geometry on the Flat Panel
detector of a Zeiss Xradia 620 Versa (auxiliary hardware).
With the release of GrainMapper3D version 3.1, non-destructive 3D crystallographic imaging in your home lab has reached the next level!
For more information see the release notes or contact support@xnovotech.com